Kenyan green group seeks ban on Ethiopian power
Read Time:
1 Minute, 37 Second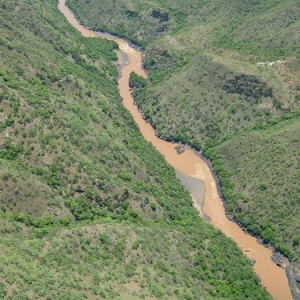 Source, Reuters – A Kenyan conservation group has appealed to the nation's high court to prevent the government and an energy company from buying power produced by the vast Gibe 111 hydropower dam in neighboring Ethiopia.
Ethiopia hopes the 1.4 billion euro ($1.71 billion) project will nearly double its power generation capacity, currently just under 2,000 MW, end power cuts at home and allow the Horn of Africa nation to export electricity.
But conservation groups fear the dam will harm the livelihoods of hundreds of thousands of people in both nations.
"This court be pleased to issue an order of prohibiting the Kenya government and Kenya Power and Lighting Company from entering into any further agreements with the government of Ethiopia relating to the proposed purchase of 500 megawatts from Gibe 111 project on Lake Turkana," Friends of Lake Turkana Trust said in court papers filed over the weekend.
They called on the court to freeze the deal, signed between Kenya and Ethiopia in 2006, until the impact of the project on local communities was fully understood.
A hearing date has not yet been set.
Conservation groups say the dam will affect 300,000 Kenyans whose livelihoods depend on the lake, in Kenya's remote northwest. A rights group also says the dam would leave another 200,000 people in Ethiopia dependent on aid.
Ethiopia has rejected the allegations.
The dam is being built on the Omo River, the main source for Kenya's Lake Turkana. Communities around the lake have protested against construction of the hydropower project saying it will disrupt fishing and farming.
Ethiopia hopes the dam will generate 1,800 megawatts of energy.
The Horn of Africa nation is negotiating further funding for Gibe 111, whose construction began in 2006, with the World Bank, the African Development Bank, the European Investment Bank and the Italian government.