Ethiopia bomb blast wounds two, official says
By REUTERS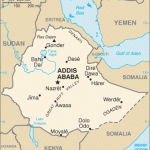 ADDIS ABABA – A bomb exploded near a court in the west of Ethiopia's capital Addis Ababa on Thursday, wounding two people, police officials said.
"It exploded at 4 p.m. (1300 GMT) on the pavement of a road that links with the Lideta High Court," Tesfaye Eshetu, a district police investigator, told Reuters.
Tesfaye said two people had sustained light injuries but were now on their way out of hospital.
"We haven't apprehended any suspects so far. The case is still being investigated," he added.
Related
0
0