Defar and Kipchoge prevail in Carlsbad
Read Time:
2 Minute, 0 Second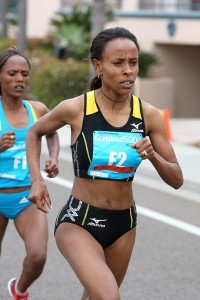 From: iaaf.org
Carlsbad, USA – World indoor champion Meeret Defar and former World 5000m champion Eliud Kipchoge took home convincing wins at the Carlsbad 5000 road race on Sunday (11) in Carlsbad, Calif.
Defar became the event's first three-time women's champion, winning the women's race in 15:04. In the men's race, Kenya's Kipchoge crossed the finish line in 13:11, the fourth fastest time ever run over the event's 25-year history.
Kipchoge, 25, a two-time Olympic medalist for 5000m, came to Carlsbad with a World best on his mind, and gave a record-worthy performance under overcast, but breezy conditions. He led the lead pack through the first mile in 4:10, pushing the Ethiopian trio of Dejen Gebremeskel, Bekana Daba and Markos Geneti. The group of four continued together, battling a coastal headwind, reaching the two-mile mark in 8:25, when Kipchoge made his move to victory.
"This is a fantastic course and a fantastic crowd. I felt ready to run a 12:58," said Kipchoge, after running his debut 5K road race and becoming the third fastest individual all-time. "The wind was too much and unfortunately I didn't get it, but it's not the last time, I will have to try again next year."
Second place went to Gebremeskel in 13:18, with the defending champion Daba finishing six seconds back in 13:24.
The prohibitive favorite to win the women's race, Defar, 26, started in hopes of lowering her own World best of 14:46 at Carlsbad in 2006. She took the lead immediately, pulling countrywomen Aheza Kiros and Mekerem Assefa behind her. The 2004 Olympic champion steadily separated herself from the other two over the closing two miles and charged through the finish at 15:04. Like Kipchoge, she did not blame lack of sufficient fitness for her failure to take down history's best mark.
"My goal was the record, but the weather was not good and we went out a little fast," said Defar, who earned $5000 for the victory. "I think my fitness is good, and maybe in the summer I will break the World record for 5000 metros. However, I am not disappointed because it's my own record."
Last year's champion, Kiros held on for second in 15:26, with Assefa finishing third in 15:55. Canadian Malindi Elmore ran well for fourth place in 16:01.