Top Chef Rewind: Ethiopian Food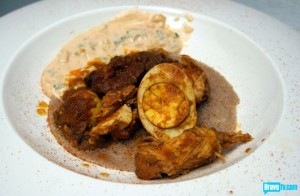 (TsehaiNY) – During the first segment of last night's Top Chef, contestants took on the challenge of preparing an Ethiopian dish.  Host Padma Lakshmi opened the show by talking about the diversity that makes up Washington, D.C., and how Ethiopian food dominates the area.
Ethiopian cuisine prepared by chefs included tibs and even doro wot complete with eggs, of course.
At the end it was the goulash dish prepared by Tiffany Derry, a native Texan, that judge Marcus Samuelsson picked as the winner adding, "It made me want to go for more."
The feature of Ethiopian cuisine on a popular TV show highlights the significance that Ethiopian dishes have garnered overtime.
Related