Huffington Post selects Marcus Samuelsson as one of This Year's Ultimate Game Changers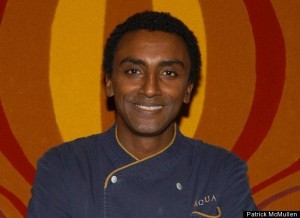 On, Marcus Samuelsson: Changed the game by … using his personal history to marry Swedish and Ethiopian cuisines. Samuelsson is no stranger to success—he was the youngest chef to ever receive a three-star restaurant review from the New York Times and won the James Beard award for best chef in New York in 2003—but this year was something else. He vanquished his rivals when he won season two of "Top Chef: Masters," sold tons of books to people who had never experienced either Scandinavian or African cooking (much less a combination of the two), and emerged as a presence on AOL.com. He left the restaurant Aquavit, which launched his career and style, to start Red Rooster, an American food restaurant that will likely put Harlem at the center of the foodie universe.
Key kudos: When President Obama threw his first state dinner last November for the visiting Indian Prime Minister, he chose Samuelsson to act as guest chef.
Read HuffPost's 2010 Game Changers